Saved Vehicles

[

00

]
Welcome to My Garage, the modern way to utilize car inventory searches and make it easier for you to collect your vehicles of interest. Now you can personalize your vehicle search with cars that you have recently viewed and saved. If you sign up for our Alerts tool you will be notified by email when a price has been changed or the car has been sold. Our Auto Locator tool will also notify you when a vehicle you are searching for has been added to our inventory. We hope you enjoy using our My Garage tool.
Recently viewed (0)
No viewed cars.
Current Models
Previous Models

Print
---
Passione Ferrari Club Challenge
Members Only
Passione Ferrari Club Challenge is a members only club, thus providing you with a thoroughly exclusive experience. The membership fee is valid for 2 events and includes your customized race equipment, including: race suit, boots, gloves, personalized helmet, fireproof underwear and HANS device. Members then purchase the season package of events, which includes at each event 6 full hours of track driving time, plus a full-hospitality package including breakfast, lunch and early evening cocktail. One non-driving companion is also permitted to join you to enjoy the hospitality during the day.
---
BREAK YOUR OWN RECORD
Your car is fitted with telemetry devices so your lap times are recorded. These events are not races, but Club Challenge offers you the opportunity to improve your driving skill by analyzing your own times with the goal of improving with each lap. Expert Ferrari driving coaches are available during the day for one-on-one tuition; offering driving technique workshops, in-car coaching and postdrive telemetry and driving style analysis. The coaches are internationally renowned to offer our Club Challenge members the best possible tuition, so that you can improve and meet the unique challenges that each circuits presents.
PROGRAM DETAILS
SINGLE RACE MEMBER - $8,000
Access to one Friday / Saturday / Sunday round
Sabelt firesuit included
FULL SEASON MEMBERSHIP - $34,000
Access to all 5 rounds (3 days Friday Sunday per weekend)
Track recognition with Didier Theys
Light coaching and data analysis by official Ferrari instructors
Up to 6 hours of track time per round
Full set of driver hear (Helmet, Hand, Firesuit, Gloves, Shoes, Underwear)
FULL SEASON PLUS MEMBERSHIP - $58,000 (all test days included up front)
Valid IMSA license required for participation
Includes all benefits of Club Challenge membership plus six additional test days with Ferrari Challenge
Wednesday Road Atlanta / Watkins Glen
Thursday Road Atlanta / Indianapolis / Laguna Seca / Watkins Glen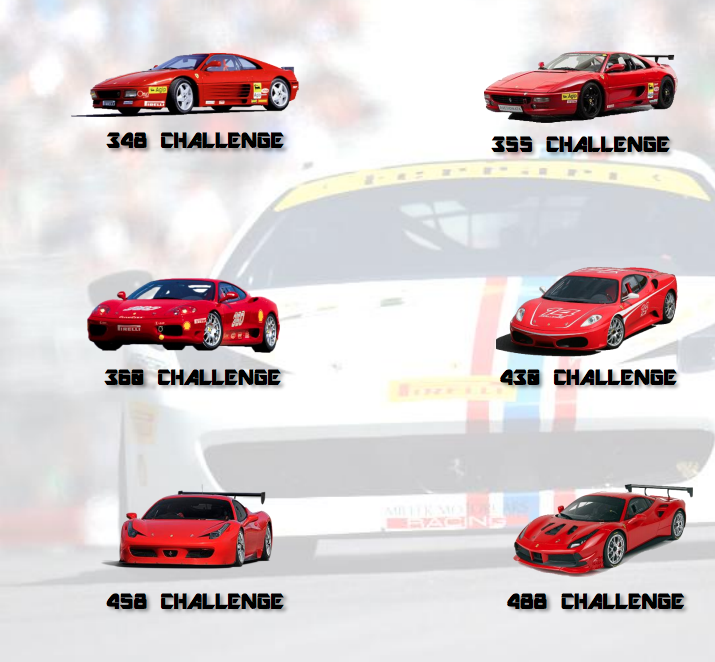 PASSIONE FERRARI CLUB CHALLENGE OVERVIEW
The Passione Ferrari Club Challenge is a driving program inspired by the Ferrari Challenge series. It is dedicated to Ferrari Challenge Car owners who want to enjoy the thrill of driving, or wish to develop their skills to eventually become involved in racing. The Passione Ferrari Club Challenge calendar follows the North American Ferrari Challenge Series, visiting iconic circuits and immersing you in the atmosphere of true racing competition.
THE CARS
All historic Ferrari Challenge cars will be welcome in this program. All cars must be Ferrari Genuine with no modifications made.

For further information please contact your Official Ferrari dealer at:
Email: nunnold@millermotorcars.com
Phone number: (203) 629-4726

Race Shop info:
Email: hptechmotorsport@gmail.com
Phone number: (786) 525-1524
---


2020 FERRARI CLUB CHALLENGE PROPOSAL
DESCRIPTION:
The estimate provided below is for competition services rendered by HP-TECH Motorsport for an event by event basics on the North America Ferrari Club Challenge. The program and quote outlined below is quite accurate, you will find our numbers to be very competitive for a professional race team. Our quote includes all official Passione Ferrari Club Challenge activities during the weekends. Our program consists on arrive and drive arrangement unless otherwise noted. The details are as follows:
2020 PASSIONE FERRARI CLUB CHALLENGE PACKAGE INCLUDES:
Race car preparation, inspection, maintenance, and set-up services pre and post Races.
Driver and guest hospitality, snacks and refreshments.
One dedicated experience race technician during the event
Crew accommodations, meals and travel expense.
All official Ferrari Club Challenge Events.
Custom poured seat (If need it).
Radio Communication Crew.
On-board Video Camera System.
Fuel for all track sessions during the event.
PACKAGE NOT DOES INCLUDE:
Abnormal wear and tear of vehicle components due to driver abuse and/or improper usage or off road excursions, ignoring dash alarm damages to car or engine. This includes but is not limited to: engine, clutch, gearbox, driveshaft, chassis components and body work.
Crash damage to the vehicle as a result of an accident regardless of fault, determined solely by HP-TECH
Crash Repairs labor.
Any parts and consumption of consumables.
Any Specialty tools for the car
Any replacement parts and labor other than normal wear parts that will be specified in our service list.
Race Car Transportation
Driver / guest transportation, accommodations and meals.
Registration for any of events.
Driver travel expenses.
The overall operation budget for a weekend program is calculated at $22,000.00 Team fee. Plus consumables and transportation base at $3 per mile divided by the number of drivers assisting to the event. Service pre-during-post event are included
---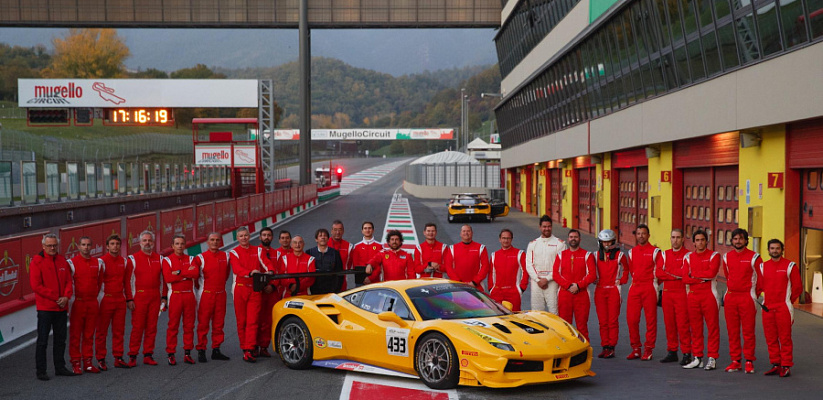 ---
LOCATION
Ferrari of Greenwich
342 West Putnam Avenue
Greenwich, CT 06830
HOURS
Monday - Friday:
9:00AM - 6:00PM
Saturday:
9:00AM - 4:00PM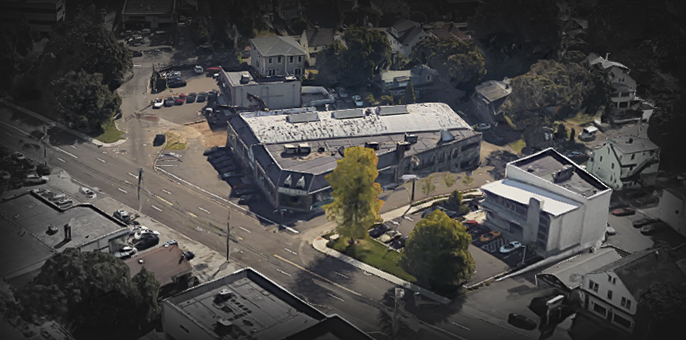 * Images, prices, and options shown, including vehicle color, trim, options, pricing and other specifications are subject to availability, incentive offerings, current pricing and credit worthiness.The advertised price does not include sales tax, dealer conveyance fee of $475, vehicle registration fees, other fees required by law, finance charges and any documentation charges.
We make every effort to ensure the accuracy of the information on this site, however errors do occur. Please verify all information with a sales associate by calling or e-mailing us.
If a person writes a check without sufficient funds in an associated account to cover it, the check will bounce, or be returned for insufficient funds. Each state has laws regulating how merchants may respond to bounced checks. In Connecticut, the merchant may file a civil suit and press criminal charges if the check writer does not reimburse him for a bounced check after the merchant has sent several notices regarding the matter.
Posted Notice Requirement
Merchants and other business owners who accept checks must post a notice where customers are likely to see it warning them of the potential consequences of writing bad checks. The notice must include the civil penalties that bad check writers may face, the appropriate Connecticut statute number and an advisory that the check writer may also face criminal penalties
Civil and Criminal Penalties
As of 2010, civil courts may require the check writer to reimburse the merchant for the value of the check plus pay up to $750 if he has no back account or $400 if the check is returned for insufficient funds. If the merchant chooses to press criminal charges, the bad check writer may face a fine of up to $1,000 and up to one year in jail. Writing a bad check is a felony charge if the check was for more than $1,000 and a misdemeanor if written for a lesser amount.
Required Written Notices
If a check bounces, the merchant must send the check writer a letter by certified mail at the check writer's last known address or place of business. Usually this letter is sent to the address on the writer's check. The letter must inform the writer that the check was returned ask him to reimburse the merchant for the amount of the check and inform him of the potential criminal or civil penalties if he fails to do so. If the check writers does not respond to the letter within 15 days of receipt, the merchant must send a second letter. This letter must inform the check writer that he has 30 days to reimburse the merchant before the merchant takes legal action against him. Both letters must be written in both English and Spanish.